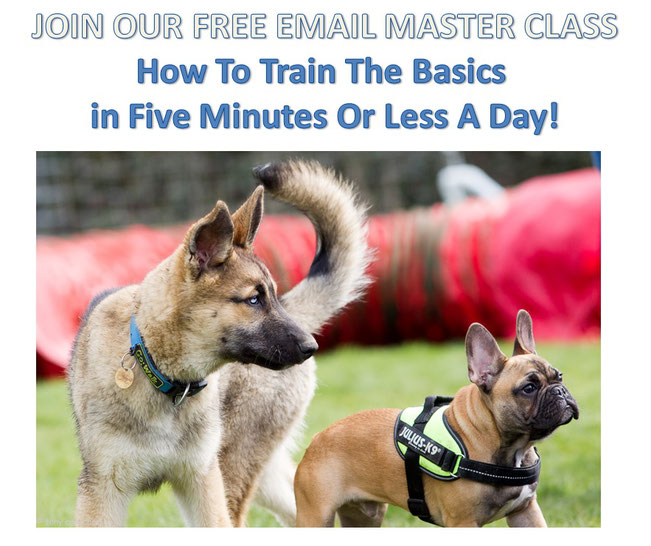 14 ratings, 106 students enrolled
YOU'RE INVITED! 
2016 How To Train The Basics In Five Minutes Or Less A Day
Master Class
Celebrate your relationship with your dog, and one of the best ways to build strong relationships is with great training! 
Act Fast!  Registration closes very soon!

You can't afford to miss this!
Now is the perfect time for your to learn how to train and handle your dog in a simply awesome fashion!  With the right training, even activities that you or your dog may dread can be enjoyable for both of you. 
---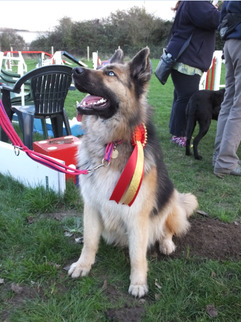 Our Grafham Waggers 2015 Champion handler Julia posted "We've just had a fabulous fun year!"
Think how great and how proud you'll feel next year when those words are yours and you see your dog in the picture!
Making sure you have a rock solid foundation of basic obedience so you can progress to whatever you want to achieve with your dog is what this course is all about.
---
Maybe you've recently welcomed a new pet into your family...

Maybe you want to improve your relationship with your older pet...

Maybe you already do lots of training but just don't quite see the results you want…

Maybe you've hit a bit of a road block with a skill or behaviour that's important to you…

Maybe you have a wild child you need to bring under control…
It's ALWAYS a good idea to go back to the basics and consolidate there. 
A valued friend with many years experience of training retrievers to a very high level made that comment to me just this week that recently, despite having mastered many advanced skills in some areas he had chosen to go RIGHT back to basics with his young dog.
If you're starting out with a new dog or puppy, there's so much information out there (much of it contradictory and downright dangerous by the way) and you feel you've got a lot to learn – that's OK, I've got a lot to teach you!
I guarantee this course will:
Bring you closer to seeing into your dog's thoughts

Help you to shape and create the drive to learn in your dog

Develop your dog's ability to retain information

Help you understand how to effectively train the basic obedience behaviours in just 5 minutes a day.

Make you more relevant in your dog's life so your dog is more attached to you and looks to you more readily for direction.
In short, your life will be better when you have a great relationship with your dog and you feel able to take him/her anywhere with you!
Ready to enrol? It's completely FREE but only for a very limited time.

I'm a dog sports enthusiast and compete with my own dog Joe in agility, rally and obedience trials. 
I'm also a perpetual student and am rarely doing less than 4 courses at any one time! 
I follow, study and train with some of the best dog sport competitors in the world, people like
Susan Garrett, one of the best agility competitors and instructors in the last decade. 

Denise Fenzi who is renowned for exceptionally precise obedience work and a recognised expert in no-force training methods.  

Karen Pryor, author of "Don't Shoot The Dog!" and one of the founders of clicker training.

Grisha Stewart, a renowned international speaker and specialist in force-free methods and dog reactivity.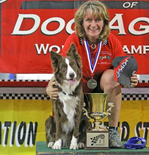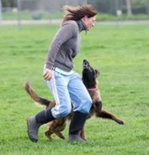 ---

---
Many of the techniques you will see demonstrated and learn with me are used by the worlds top trainers as foundation skills for dog sports.  Not only are they a great foundation for this they're also what makes a truly great family companion dog you can take anywhere.
This is what sets my training apart and if you're interested and willing (which you must be otherwise you wouldn't still be reading this!) you can train your dog from first steps to a very high standard as you progress through the wide variety of classes and structured step-by-step programs I have on offer in 2016.
Come with me now and master the one key factor that will make or break your relationship with your dog – basic obedience.
---
What You'll Get Out Of This Course...
Every Friday I'll send you a new lesson with exercises, challenges and skill building games for you to work on with your dog.  You'll get a notification direct to your inbox containing links to the course pages on my membership website.
Step-by-step instructions for each activity in my own inimitable style you already know and love J and accompanying photos and videos to illustrate the techniques make it super easy for you to learn and go at your own pace.
Lesson 1: Start Here
Establishing a leadership role and the basics of good manners and behaviour.
Lesson 2: Heeling and Lead Work
Getting your dog to walk nicely on the lead, or 'at heel', is one of the  most important aspects of basic training.
Lesson 3: Sit
Teach your dog this essential behaviour in a series of easy structured steps.
Lesson 4: Stay
If you have ever envied people who can tell their dog to SIT or Lie DOWN then walk away, leaving the dog patiently and obediently waiting for them, this is just what you need.
Lesson 5: Down
Another essential behaviour taught step-by-step using a temporary lure and food rewards, and without entering into any kind of physical tussle with your dog.
On this course you'll learn:
·         Why a strong leadership foundation is so important
·         How the dog's mind works
·         Why lead training should begin in the home and not out and about
·         Why your dog needs to learn the position before the word
·         How you should deal with a dog who won't walk to heel
·         Why training should start again from the beginning each time the environment changes
·         Why it's a good idea to introduce hand gestures
·         Just why recall is so difficult to master!
Don't Wait Any Longer!
Enrol today and I'll help you get the skills you need to succeed with YOUR dog

---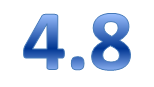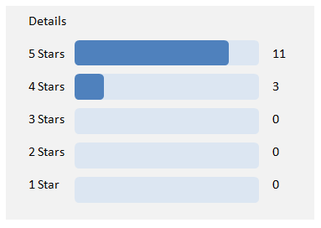 ---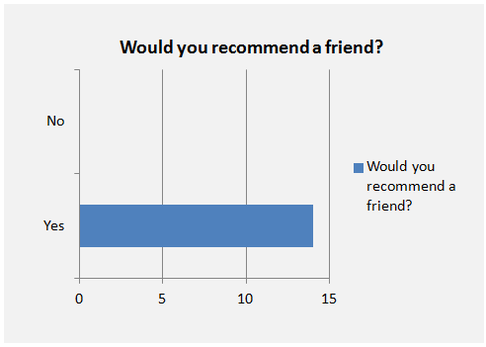 ---

The email course is a great idea and particularly useful for people with super busy lives who can't attend a training class in person. The emails are clear, succinct and can be saved and re-read later on to reinforce the ideas. Thanks for sharing!
---

Great course, practical, really clear what to do, very easy to read and follow. Many thanks.
---
Clear instruction broken down into small detailed steps. I used it to reinforce puppy classes.
---

Very informative! All the training involved is positive reward based training and I'd recommend any dog owner who wants help with their dog(s) to Nicki
---

January 2016 Graduate:
Very easy to follow step by step instructions.
---

Very useful, simple to follow and equally good as a refresher. Great being able to keep either on line or print off.
---

I've trained two dogs on this course, and they were entirely different characters. They have both benefited from Nicki's kind, calm and positive approach and her wide repertoire of training strategies. I am now much better informed too and have learned that there is a lot more to dog training than the superficial observer would think. You really do get out what you put in.
---

It felt great to be connected to trainer who was educated and on your side to get the best out of you're dog.
---

January 2016 Graduate:
Very, very helpful with a border collie puppy:-)
---

Excellent course with lots of useful information for owners to improve their ability to train their dog. Step by step, clear and precise advice, with gradual progression - highly recommended.
---

I have been following Nicky's site and have found it very helpful my little dashound has a mind of her own so have looked forward the this to help me. Thank you Nicky
---
Clear, thorough, professional. Perhaps over-kill for a quick-learning dog, but it has to cater for all kinds.
---

I thought it was brilliant, well planned. Content of classes excellent. I just need more practice. Thank you very much.
---

Harley is much steadier. Delighted with his sit/stay. I had Harley in a sit/stay and was 30 yards away, he was approached by another dog and he did not move fantastic. Lose lead work also better and generally he is more attentive/ responsive. 
---