---
This is the entry point into our flagship puppy and young dog program for puppies less than six months old and it is extremely popular!
We open up new courses every 2-3 weeks on week day evenings and at weekends April through to October.  The courses are held outdoors at our beautiful training venue at Grafham Water Sailing Club.  This is a large park like venue with plenty of free car parking right next to the training area.  
The courses are 5 consecutive weeks on the same day and at the same time each week.
We will not be advertising new courses now until March 2022 but if you have a new furry addition to your family do look at our online courses which are available year round!
---
---
If you find attending regular classes at the same time each week difficult due to other commitments / work shifts etc. or you live out of the area then the good news is you can still train with us!  Click here to get started straight away!
---
Check out our latest video below showing what you & your puppy could learn in the Puppy 1 sessions!
---
Our puppy classes run in the best place - the great outdoors!  We have a lovely private field at Grafham Water Sailing Club, the postcode for this venue is PE28 0BU. 
Each week there is time for questions on any aspect of puppy training or behaviour.
On completion of the Puppy 1 course, you can join the continuation class where a wide range of further training activities including dog sport foundations are explored!  (Not to mention, coping with your pups 'teenage' time!). 
There are also weekly Pack Walks you can join to continue your pups positive socialisation and work on those all important skills like loose lead walking and recall around other dogs in a safe and supportive environment.
We are here to support you all the way through your dog's early formative years.
---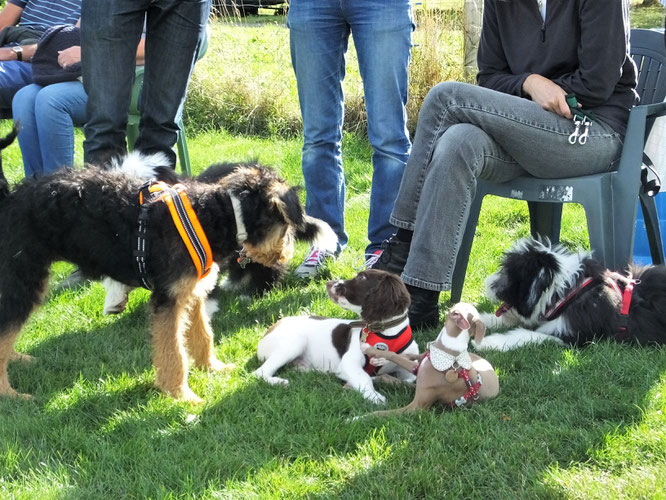 ---
Puppy training is really fun, and make no mistake - puppies are super-malleable and learn very quickly.  The socialisation clock is ticking though… the human socialisation window for puppies is 0 - 12 weeks and the canine socialisation window is 0 - 16 weeks.
Take a look at this great video which explains really well why positive socialisation is so important for very young puppies: https://www.youtube.com/watch?v=qPGd7ElMCJ8
The time, thought, and energy you put into your puppies socialisation now will form lifelong habits and have lasting effects on your adult dog's behaviour, even if you have other family dogs.
Raising and training a confident, friendly, and well-mannered lifelong companion takes more than just a commitment to attending a few puppy classes.   Puppies develop into dogs very quickly. Your young pup will go through many stages in his / her first year and we're here to guide you through all of them with the goal of producing a happy, friendly, responsive and well-adjusted companion dog you can take anywhere.
Our puppy courses are specifically designed to quickly start your pup off on the right paw and to make sure early training and socialisation sticks through your dog's adolescence by becoming effortlessly integrated into your ongoing daily routine.
We will take you through all the essential puppy training exercises and your pup can enjoy socialising and learning in a natural environment.  All our puppy training takes places outdoors in the real world in relaxed park like settings.  We also have a dedicated and fully enclosed training field well away from any roads for safe recall practice.   With us, training, socialisation, physical exercise and mental stimulation are brought together to help your pup grow into a beautiful and well balanced adult family dog. 
We take part in many dog sports with our own dogs so if you happen to also aspire to train advanced behaviours, compete one day or have the ultimate outdoor companion - The Adventure Dog! we are with you all the way!
The course is accompanied by lots of great content delivered via email throughout the course with comprehensive step-by-step guides for simple exercises to guide your daily practice.  Each exercise we practice in class is available to you online with specially recorded videos so you have a reminder you can access via your phone or computer.  This level of support at home is one of the things that sets us apart as a professional canine education provider.   You'll be simply amazed at what you can achieve with your pup!
You are guaranteed the same instructor throughout your course and the best advice from a qualified professional trainer based on years of experience of dog ownership, training and coaching.  Our dog training methods are always both dog and family friendly and we really look forward to meeting you soon!
---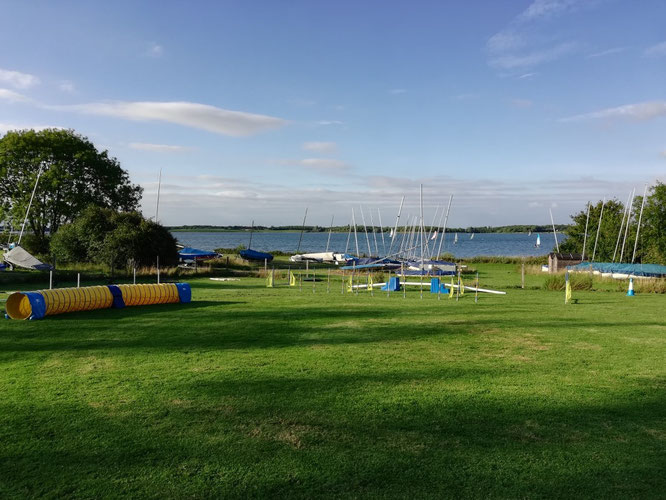 This is our beautiful puppy training field, fully fenced and enclosed for that all important safe recall practice around other dogs.  
---
Many thanks for selecting us to help with your puppy training!  Please read the enrolment instructions below carefully:
You need to do BOTH steps below to reserve your place on a course, that is - complete the enrolment form and send your payment.  In fairness to all our lovely clients we cannot accept reservations without payment in full as the courses are so popular.  (The course fee is refundable in full minus a £5 admin fee prior to the course start date.)
STEP 1
Please fill in the online enrollment form below making sure the correct course is selected from the drop down list of course options then click the blue send button to send your form to us.  
STEP 2
Send us your payment by clicking on the Buy Now button and follow the checkout process.  All course fees are refundable in full prior to the course commencing. Once the course starts however no refunds are available.
You will receive a payment receipt and we will send you a further email with course confirmation, directions to the venue and details of what to bring and any other requirements.
If you have any other questions in the meantime please don't hesitate to contact us!
We love to hear from you :-) 
PUPPY COURSE - ENROLMENT FORM:
---
PUPPY COURSE BOOKING - PAYMENT STEP:
Please use the checkout below to pay for your course, this step is required to reserve your place.
---
Puppy Training and Socialisation Course - 5 consecutive weeks - PE28 0BU
Puppy 1 for puppies less than 6 months old, full vaccination required. 
The course fee is refundable in full minus a £5 admin fee prior to the course start date.
This course will show as 'Limited Availability' when there are two or less places available.
---
Once you have sent your form and payment, that's it, you're done and we will be in touch very soon to send you full joining instructions.
Thank you once again and we look forward to meeting you soon!
---