---
One rule to train them all,
One rule that's magic,
One rule to easily prevent
Behaviour that could be tragic!
A precious gift indeed!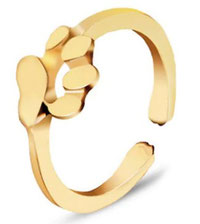 Over the years I've had the privilege of working with many, many dogs and owners.  Lots have come to puppy classes, others often seek help during their dog's adolescent months when they have become just too much of a handful and some folks have adopted dogs from rescue organisations and may be faced with some complex behavioural issues.
Regardless of where a dog and handler team start there is a surprisingly simple protocol that can completely transform the level of communication and understanding you have with your dog.
All puppies should be raised with this protocol and doing so minimises the chance of behavioural problems developing as your pup grows up and matures. 
It's a fact that many young dogs in this country are still surrendered to rescue organisations between the ages of 6 months and a year old because of their unruly behaviour.  I have adopted two such young dogs myself and they have turned out to be the most wonderful companions.  All they needed was a consistent kind rule structure explicitly spelled out for them.  Following the golden rule described here does exactly that.
For puppy owners, following this protocol ensures that your pup learns to be calm, defer to you and have real confidence in you as a handler to provide guidance in all situations.  Not only does this minimise the chances of behavioural problems of all sorts arising later on, it's also the best way to ensure your pup has the best relationship with you by minimising confusion and anxiousness that can arise from miscommunications and uncertainty (note: it is very easy to reward behaviours we don't like by accident as you may have already found out!)
 The great news is, the rule is amazingly simple and boils down to this:
The dog must sit, be quiet  and  - and this is the essential part - look to you and attend to you for cues about whether his/her behaviour is appropriate - in order to have access to anything and everything he or she wants!  This includes sitting a waiting a few seconds or maybe longer (until released by you) for:
Food and feeding
Treats
Being stroked, petted or loved
Grooming, inspection for ticks etc
Being able to go out and come in
Being able to get into or out of a vehicle
Having a lead, head halter or harness put on
Being dried off after a muddy walk
Being invited onto the bed or sofa (if you allow this)
Playing games
Playing with toys
Getting attention from you

Anything!!!
It sounds simple and it is.  Ensuring you follow the rule at all times requires diligence however as human nature being as it is, it's quite easy to forget or be distracted.  
Consider this as an example:
You are talking, reading, or watching TV and your dog comes to you and rubs or leans against you. You likely usually passively reach out and touch or pet the dog without asking the dog to sit and look at you first.  The dog 'controlled' the situation and got a response that rewarded him for pushy / attention seeking behaviour.  Most likely you probably would not even be aware of the association the dog made.
Simply, if the dog is uncertain, anxious, concerned, or worried, getting attention from people in a context of concern and anxiety makes that anxiety worse because it is passively reinforced.  By attending to the dog and asking him to defer to you by sitting when he requests attention, you have avoided accidentally rewarding problematic behaviours and ensured that you reward nice calm ones instead.
This simple rule sets a baseline of good behavioural interaction between human and dog, and teaches the dog that if he or she is consistently calm, quiet, attentive, and defers to his or her people, guidance, attention and rewards will follow.  In turn, the humans learn to have realistic expectations for their dog and to signal clearly, calmly, and kindly in a way that minimises the chances of miscommunication.
Dogs are social and, like other social species, will communicate when they are uncertain or needy to other members of their group. This means that they are well adapted to look to their people for guidance.  Dogs often become problems for their people when they cease to look to people for guidance, or if they never do this, or if they cannot do this.
This rule also gives you permission to not be angry at your dog!  Instead, you can walk away.  To have a great relationship with your pet you do not have to control their every move.  The best dog-human relationships are the ones where clear signalling is involved and ones where both dog's and human's needs are respected and met.  These goals need to be accomplished in a safe, kind, passive manner, and this can be harder than most people realise which is why this rule is so powerful.  It provides a simple explicit structure that everyone in the family can follow.
The protocol works so well as all social animals create some form of rule structure for social interaction.   Dogs and humans both have the mental ability to pay attention and to send and receive information.
Clear communication is essential in social animals because it avoids an inefficient and potentially dangerous use of time (e.g., fighting!).  Every time there is uncertainty in a situation there is the potential for anxiety.  Every time there is the potential for anxiety there is the chance to make a mistake in a behavioural response and to learn to reinforce that mistake. We want to avoid such uncertainty because by doing so we will minimise behavioural problems and maximise joyous, fun and loving relationships with our dogs.
Because dogs are so similar to us in so many ways, and so frequently look like they are hanging on our every word, we assume that they are complying with our rule structure and all its nuances. We need to understand that, while the ability to seek information from others is shared by all social species, we must learn how to do this appropriately with our dogs. By using the tendency to defer — to seek information from others — we can ensure that we teach our dogs how to exchange information with us in the best possible manner.
To successfully understand and use the golden rule you must understand that, although they do not have verbal speech, dogs ask questions.  Sometimes they do this by offering a series of behaviours and wait for the change in human response, sometimes they do this by vocalisation, sometimes they do this by pestering us by pawing, and sometimes they sit quietly and look at us.
This protocol capitalises on the last behaviour because it is the one that gives us the time and space to exchange information with our dogs.
The keys to using this protocol are very simple:
the dog must attend to the human by quietly looking at or monitoring them for signals about which behaviours are accepted,

the dog must relax when he or she does this,

the human must be clear in his or her signals, and

the human must be reliable, reasonable, and humane.
In this protocol, before you touch, love, or otherwise interact with your dog make sure your dog is attending to you, sits, and deferentially awaits attention.
This is not about "control", "leadership " or "mastery" of the dog - it's all about increasing the chance that you can signal clearly to the dog, that you have the dog 's undivided attention while signalling, and that you are actually rewarding the behaviours that you desire.
Dogs naturally defer to other dogs by sitting or lying down and looking at them so this is completely natural for them and we can have them defer to us and be ready to take their cues from our signals by having the dog sit.  Once you've established the rule, your dog will come, sit quietly and receive love or instructions and all of this will take place within seconds, it becomes second nature.
Dogs and humans who comply with this protocol generally interact more, have more fun and have a much better relationship than those who do not use it.  In fact, you will find that your dog initiates more interactions and seeks to interact with you in more contexts, not less.
---
The "sit" does not and have to be and should not be prolonged.  It can be as short as seconds as long as the dog's bottom is on the ground and the dog is looking quietly at the person.  Even a wiggling 5 week old puppy can sit for a few seconds and look at you. As soon as the puppy sits, say "Good girl (boy)!" and give a tiny treat of something special.
Special means that the treat is not something they get every day. "Treat-only" dog biscuits, tiny pieces of cheese, dried chicken, a tiny dab of cream cheese, etc. will interest most dogs and signal that something special and good is coming up.  As soon at the puppy's bottom is on the ground, praise and pet the pup, tell him he is brilliant, and give the treat.
Here's the rule again:
The dog must sit, be quiet  and  - and this is the essential part - look to you and attend to you for cues about whether his/her behaviour is appropriate - in order to have access to anything and everything he or she wants!  This includes sitting a waiting a few seconds or maybe longer (until released by you) for:
Food and feeding
Treats
Being stroked, petted or loved
Grooming, inspection for ticks etc
Being able to go out and come in
Being able to get into or out of a vehicle
Having a lead, head halter or harness put on
Being dried off after a muddy walk
Being invited onto the bed or sofa (if you allow this)
Playing games
Playing with toys
Getting attention from you

Anything!!!
Remember, the dog must sit long enough to obtain the information he or she needs or to accomplish the task.  Sitting by the door may be short; sitting for grooming will be longer.  If your dog is more comfortable lying down than sitting that's fine. The point is to cease being in motion and to calmly attend to the human for information.  Remember, you minimise the chance of miscommunication if each side is attending to the other. Sitting calmly allows the dog to do this.
This golden rule provides dogs with a communication channel that allows them to seek, and then take, guidance and help.  All dogs should learn this and no dog is too old to learn this.
Using the protocol will not take away a dog's fire or individuality, it allows us to have far better relationships with our dogs.   It also means you don't have to worry that your dog will jump out of the car in a busy car park, you don't have to struggle with the dog to get into or out of the house, you don't get mauled feeding the dog, and you can regain your space on the sofa or bed just by asking the dog to come and sit.  In short, life with your dog is a joy, not a struggle!
Starting immediately, the dog must ask for everything that he or she wants.  The dog does this by quietly sitting and staying for a few moments while looking to you for information (deferring to you).

The dog is requested to sit by using his or her name and then saying "Sit." The dog's name and a request to sit can be repeated every 3-5 seconds as needed. This is not an obedience class exercise - by using the dog's name and repeating your request if the dog is paying attention to you, you will reassure and refocus your dog.  Please do not think that if the dog does not comply with your every wish instantaneously that he or she is being "defiant" - your relationship with your pet does not have to and shouldn't be an adversarial one.  The dog may just need time to become calm enough to sit, or the dog may be confused about what you really want because of past interactions.  Give the dog the mental space he or she needs to attend to and respond to you.

If, for whatever reason, the dog won't sit or acts confused or anxious - walk away from the dog. The dog will eventually follow you and then you can try again.  

As soon as the dog sits, reward him or her with praise. A food reward will hasten the process for a dog that doesn't know how to sit. The next step is to teach the dog "stay".  If you need help with teaching "stay" come along for a 121 session and we will help you with this.

Please remember that the dog must stay until released.  Since the point of this protocol is to enforce deference in a way that will allow the dog to generalise being calm now to being calm in other situations, quick releases are desired.

Please remember that everyone in the household must be consistent and work with the dog. Children need to be monitored to ensure their safety and to help them to avoid teaching the dog the wrong behaviour. Children must understand the difference between a food salary and a bribe, and must be taught not to tease the dog.  Dangling food out in front of a dog at a distance is an invitation to get up and lunge, and very young children may not realise that they are doing this. Open, flat hands are the best way to offer food to dogs.   This should be fun - for everyone!
You can and should use the dog's name - this will get him / her to attend to you. You can use the name frequently, unlike in obedience, as long as he/she is paying attention to you.  In fact, his / her name should be the cue to orient towards you.  If he/she doesn't look at you immediately, put the treat near your eye.  You need your dog to focus.
If you have unintentionally taught the dog to ignore his/her name, you will have to start with a new verbal cue and couple it with putting the treat to your eye to get the dog to look at you for the verbal cue.
Repeat your request after a few seconds if the dog is not paying attention to you. Again, this is not obedience - the dog needs your reassurance and may need help focusing on you.
Reward the dog appropriately.  Eventually, the food treats will appear less predictably.  At the outset the dog needs everything you can do to help him or her.
Remember to use one or two words consistently as a Release Cue ("All done!", "That's it!" for example).   Choose words the dog is not going to hear all the time as you want a specific cue the dog can understand to mean you can move now.  If the dog gets up before being released, ask the dog to stay again, and wait 3-5 seconds before release. This will prevent jack-in-the-box behaviour.
Don't expect even the best behaved dog to be able to pay attention to you, be calm, and respond to your request if pandemonium surrounds the dog.  You cannot expect dogs to be fully responsive in stressful, noisy, confusing environments unless they are specifically taught to do so (as are service dogs for example).
There is an art to rewarding dogs with food treats.  Learning to do so correctly will help the dog focus on the exercises.  If you keep prepared treats in a cup or bag behind your back, or in a treat bag at your waist, you always have easily available treats.  By keeping only one or a few treats in your hand at a time you will be able to prevent your dog from lunging for treats.  The hand that you will use to reward your dog can then be kept behind your back so that the dog doesn't stare at the food, or you can move your hand to your eye so that you can teach your dog to look at you.
The food treat must be small: the focus of the dog's attention must be you — not the food. Bring your hand, with lightly closed fingers to the dog, just under his mouth and open your hand flat. You want to move quickly enough to ensure that your dog gets the reward a second or two after successfully completing the task.
And that's all there is to it!
Puppies raised with this protocol will be a delight to own and we can't recommend it to you enough.  Good luck and enjoy your charmingly behaved furry companion!
---